Houston Astros Midseason Check In
No Yordan. No Pena. No Urquidy. No Gracia. No Brantley. You get the point. Midway through the season the defending Houston Astros in the middle of an injury plagued season. But it's not all doom and gloom. Despite their habitual slow starts, the 'Stros are still in the playoff conversation with a 38-29 record. As always, the real fun starts in the summer, so buckle up!
The Division is Tight
Unlike previous years where the division was lacking, this year is different. Keep your eyes on the Rangers and the As. The Rangers are leading the AL West and hold the 2nd best record in the AL, and we've got ten more dates with them this season. As for the As, we've got to keep banking wins against them. With our 6-0 record over them so far, we've got to keep that momentum going.
Pitching
With the pitching staff plagued by injuries, Hunter Brown is our #3 starter. The rookie's arm is on fire, making him a strong Rookie of the Year candidate. But with the innings racking up on his young arm, we're crossing our fingers that he can keep it up till Urquidy returns after the All-Star Break. Tonight Brown with 7 IP, 4H, 0R.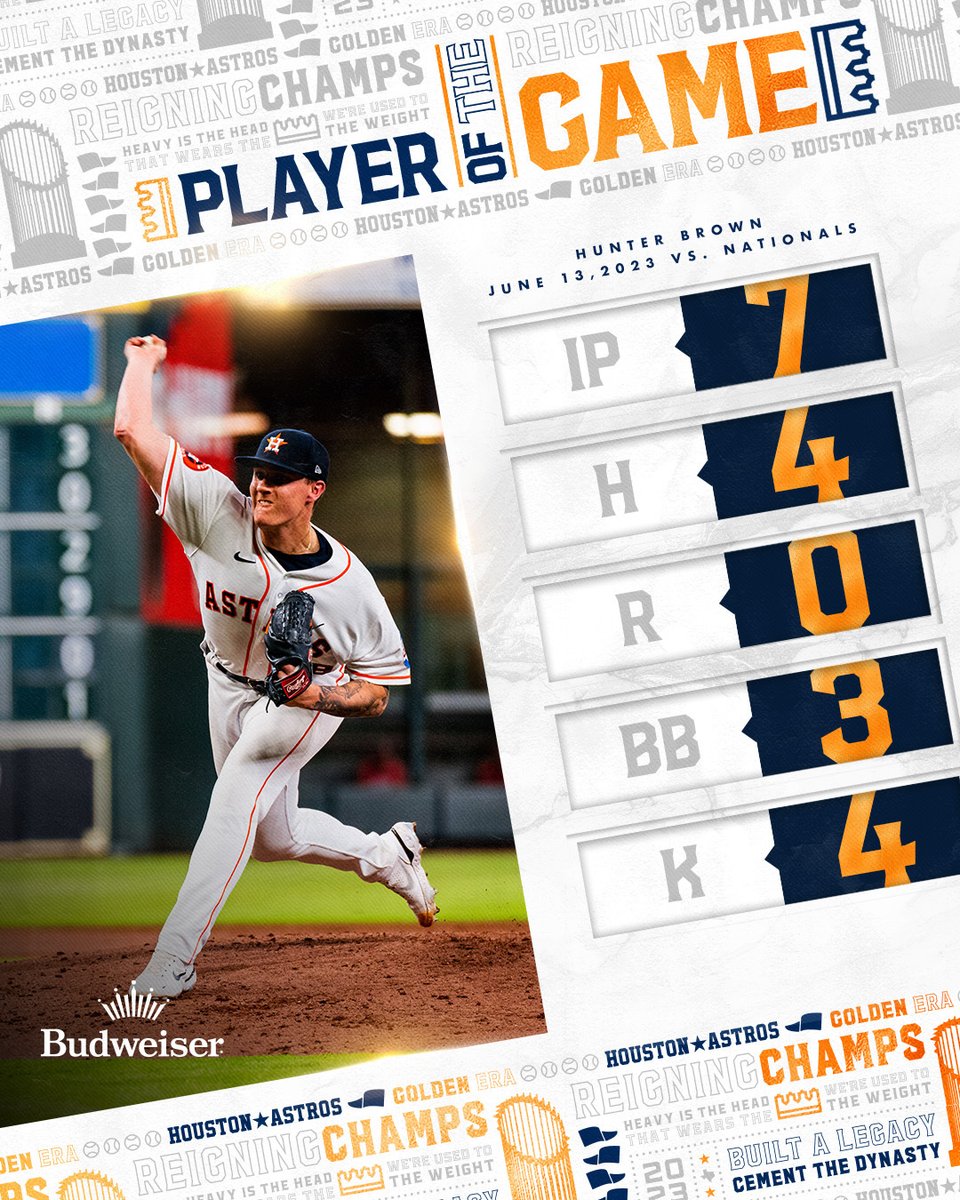 Trade Deadline
This trade deadline is going to be a big test for first year GM Dana Brown. We're winning more than we're losing, but there are some glaring gaps, like our starting pitching depth. With the team's injury woes and inconsistent offense, Brown will have some tough decisions to make.
Today's Game
We were in the juice box for what is the start of a 9 game home stand and more importantly Star Wars Night. With 39,546 fans, many in their best Star Wars costumes, in the house it didn't feel like a Tuesday night game. Astros won 6-1 . The game was scoreless till the bottom of the 5th, when Dubon and Tucker each had single HRs to put the Astros up top and they never looked back. Milestones included Abreu getting career hit 1500, 7 shutout innings from Brown, HR #100 for Maldonado, and 1000 trips around the bases for Altuve (only the 4th Astro ever).
Altuve becomes the 4th player in franchise history to reach 1,000 runs.#VoteAltuve ⭐️ https://t.co/iW4MI75nC6 https://t.co/Zb116WWTWa pic.twitter.com/HsBdNbLXTO

— Houston Astros (@astros) June 14, 2023
So, Astros fans, don't lose hope just yet. Sure, they are not the super-team of the late-2010s, but who really wants to bet against Houston? It's still early, and with their history, no other AL playoff contender wants to see us in their bracket.