AIR – A Movie Worthy of Closing SXSW 2023
Just like every year, 2023 had countless premieres at SXSW that are rave worthy and will likely have audiences around the world flocking to theatres. But the premiere that stood out (and the closing night event) was AIR – the story of Nike pursuing a rookie Michael Jordan to give their flailing basketball division a boost. AIR had lines around the block at Paramount Theatre and those lucky enough to get in got to hear from and have a Q&A with the all-star cast – Matt Damon, Viola Davis, Ben Affleck , Jason Bateman Chris Tucker, and others.
The Story and Cast
This inspirational story follows the career-defining gamble of an unconventional team with everything on the line, the uncompromising vision of a mother who knows the worth of her son's immense talent, and the basketball phenom who would become the greatest of all time.
Today, the instantly recognizable Nike swoosh is emblazoned on athletes in every major sport; however, four decades ago, Nike's fledgling basketball division was the underdog, with no top players wanting to wear a "running shoe" brand. Then, in 1984, an unprecedented deal between the struggling company and an untested NBA rookie named Michael Jordan rewrote all the rules, launching what would become a global, multibillion-dollar industry.
View this post on Instagram
But it all started with the vision of one man, the conviction of his team, the faith and determination of one woman and the unparalleled talent of one extraordinary athlete. Together, they turned the once-generic basketball shoe into something forever iconic: the Air Jordan.
AIR stars Matt Damon as Nike's basketball expert, Sonny Vaccaro; Ben Affleck as Nike founder and CEO, Phil Knight; Jason Bateman (Ozark) as Rob Strasser, Nike's VP of Marketing; Chris Tucker (Rush Hour franchise) as Howard White, an ex-player and Sonny's colleague and advisor; Chris Messina (Sharp Objects) as David Falk, Jordan's agent; Marlon Wayans (Respect) as George Raveling, one of Jordan's coaches at the 1984 Olympics; and Viola Davis as Michael's mother, Deloris Jordan.
Words from the Talent
Director/producer Ben Affleck, who also plays Nike founder Phil Knight in the film, relates, "I had a picture of my little brother wearing Air Jordans; it was the winter of 1985 or early '86. I remember quite clearly when Nike replaced what was popular then, which was mostly Adidas. And I remember how, seemingly overnight, Nike became what you had to have if you wanted to be cool. But I had no knowledge whatsoever of the backstory of the origin of the Air Jordan. Naturally, we know that the shoe is not what made Michael great; rather his greatness is what made the shoe such a phenomenon. Sneaker culture is ascendant now, and AIR is about the inception of that, which I think will surprise a lot of people. That appealed to me."
Matt Damon
Matt Damon stars in the film as Nike's resident basketball guru, Sonny Vaccaro, and also served as a producer. He adds, "You might go into the movie with a certain set of expectations, but then the story evolves into being about Viola's character, Deloris Jordan, Michael's mother. That's what we loved about the story: it centers around this person we know, this great sports legend, but it's about everything happening behind the scenes and, in particular, the impact that his mom had. She was so sharp and understood what his value really was. And the rest is history."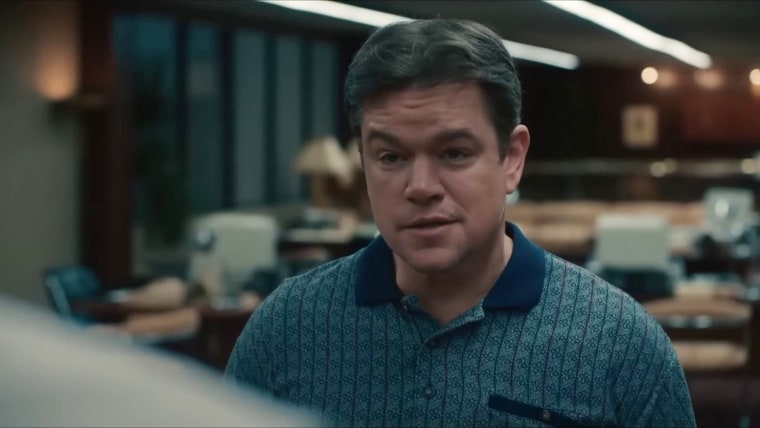 Viola Davis
Viola Davis observes, "There are changemakers who we don't necessarily see and don't necessarily know. We only know Deloris predominantly though Michael Jordan, but she was someone who was able to create tremendous change in the space she was in. I think the inspiration to be found in the entire movie is—and my husband, Julius, says this all the time—you don't know whose life you're going to touch, you don't know whose life you're going to change, but your job is to plant the seed. You don't know how it's going to grow, but you have to plant it no matter who you are. If there is one thing you could take from this movie, it's that everybody had a great idea, but you didn't see how it was going to grow. And now, here we are in 2023 and we've seen the unbelievable growth from all these ideas that came from people who were just following their hearts. That's all they were doing. I think that's a larger message for people in general, that you don't have to have a million dollars, you don't have to have a PhD. You just have to have a vision, a purpose, a heart, and a huge amount of courage."
Interestingly, the choice of Davis to play Deloris came from the person who knows her best. Affleck explains, "I wasn't going to make this movie without at least seeking Michael's blessing, making sure there was nothing objectionable to him and asking him, 'What do you really care about?' And he was gracious enough to sit down with me, and he had a couple of things that were important to him, like making sure Howard White and George Raveling were included. Michael wanted to honor the contributions that people made, and he was also quite adamant that Viola play his mother. I guess that's very in keeping with Michael Jordan–to set the bar as absolutely high as possible and then expect to reach it."
Affleck adds that he was thrilled with the choice, noting, "It has long been an ambition of mine to direct her in a movie. So, overall, I felt like it was incumbent on me to try to make sure the part warranted someone of Viola's stature. And in typical fashion, it turns out that Michael is a genius casting director as well," he laughs.
Jordan?
The director felt it was important to take a different approach in "casting" the legendary figure at the center of the story. "Michael Jordan is so famous that I truly felt if we ever saw an actor playing it would be hard to get the audience to suspend their disbelief, because, in my opinion, there's no convincing anybody that someone who isn't Michael Jordan is Michael Jordan. We felt a more interesting way to tell the story would be for him to exist in the ether of the movie. To be talked about by everyone but not seen is somewhat analogous to the experience of celebrities and sports stars in modern life, because most people go their whole lives without ever meeting or seeing their favorite sports star or celebrity in person. So we only see Michael in clips and flashes. We don't ever fully see him in person because to see him in person would be to put his feet on the ground in a way that the movie doesn't want to do."
Jason Bateman and Chris Tucker
Jason Bateman, who joined the ensemble cast as Nike VP of Marketing Rob Strasser, remarks, "I'm excited for people to see this movie because the Air Jordan is such a major part of the fabric of our culture and it's amazing that most of us never really knew how it all came about."
Chris Tucker plays Nike executive Howard White, who is his real-life friend. "What they did not only changed their own lives but the lives of future generations of athletes. I think Howard is very proud of what they accomplished, together with Michael and his mother, and I am proud to be part of telling their story."
"It's just one of those feel-good movies about a time in our lives that many of us remember so well," Damon reflects. "When I was watching The Last Dance, I had this experience of reminiscing about when I was a kid and got to go to one basketball game a year. My brother and I would always choose the Bulls because we wanted the chance to say we saw MJ play in person. In our youth, he meant so much to us…he was everywhere."
Closing Thoughts
We know how this story ends, but the movie keeps you on the edge of your seat as if it's a story we haven't heard before. Affleck does an astounding jobs of letting the all-star cast shine and there are plenty of laugh out lout moments in the nostalgic movie. We particularly loved the 80s hits that peppered the movie with nostalgia. AIR hits the big screen on April 5th – you won't want to miss it!