A Little Light For Your Quarantine Holidays
December is always one of my favorite time of the year. Not only is it one of the rare seasons that Texas actually experiences but the vibes are just different. Everyone is just a little bit happier, with more laughter and warmth in the air. One of the holiday staples that quite literally light up Austin includes the various light shows. Even during this pandemic there are still plenty of drive-thru and socially distanced options available for you to embark on this holiday season!
Trail of Lights at Zilker Park
2020 marks the 56th year of the Annual Trail of Lights. One of the most beloved and most anticipated light shows has now become a drive-thru event to ensure that all Austinites can still experience the joy of the holiday spirit while keeping their friends and families safe. The trail features over 2 millions lights, with hundreds of holiday theme displays.
Availability: November 28, 2020 – January 3, 2021
Ticket Price:
General Vehicle Entry: $25- $35 with fees varies based on time, entry starting at 7pm-10pm
Premium Vehicle Entry: ~$72 with fees
Dash Passes: ~$60 allows for early entry starting from 5:45pm – 7:00pm and cookies for passengers
Fun Run Add-ons: ~$19 with fees
Event Calendar: https://austintrailoflights.org/calendar
For more Information: https://austintrailoflights.org/
Peppermint Parkway at Circuit of America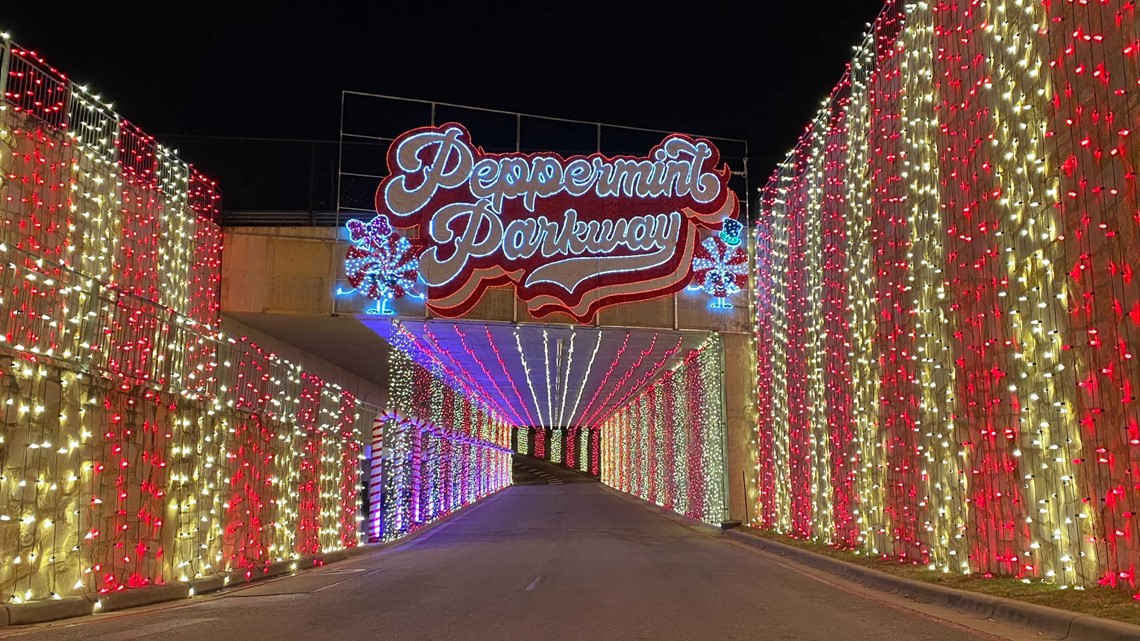 Pepper and Mint are on their way to deliver letters to Santa Claus in hopes of getting gifts underneath their tree. In order to do that, they must go through COTA's tunnel road with various stations and entertainment. This is drive-thru events allows you the opportunity to drive on the renowned circuit tracks while enjoying the holiday spirit with two cute mascots.
Availability: November 27, 2020 – January 3, 2021
Ticket Price:
Parkway Admission (general): ~$25 per vehicle smaller than an SUV
Candy Cane Cruise (general admission and track lap): ~$60 per vehicle
Polar Express Fast Pass (general + skip line): ~$75 per vehicle
The Sweetest Deal (all of the above): ~$90 per vehicle
Activities:
COTALAND: Beyond just the drive thru lightshows, a small amusement park will be open available to the public outside of COTA's Grand Plaza. This includes a special meet and greet with the mascots, Ferris wheels, games, train rides, along with food and entertainment.
COTA Karting: If you're a thrill seeker, check out the COTA Karting option with karts going up to speeds of 55mph on the tracks. This does require advance booking for availability. Ticket prices are around $35 per person for a 45 minute race.
Zipline: Get the opportunity to soar through the sky above the COTA tracks on your visit to Peppermint Parkway. Tickets are around $8-$12 with a purchase of COTA Karting.
For More Information: https://peppermintparkway.com/
Mozart's Light Show
Want a light show next to an astounding view of the lake? Then Mozart's COVID Cautious Light Show is the show for you. Much like any other year, Mozart's Coffee would embellish the entirety of their outdoor seating area with thousands of lights synced up to all the holiday bops that you can think of, and this year isn't any different. Through a reservation-based system, you can book tickets and reserve a table for up to 6 people to enjoy the show with your friends and family.
Availability: November 11, 2020 – January 7, 2021 with reservations from 6pm-11pm
Pricing:
General Admission: $10/table for parties up to 6 people. You may only reserve up to 6 tables/per day. Each admission is up to a hour.
For More Information: https://mozartscoffee.com/pages/christmas-light-show
Luminations at Lady Bird Johnson Wildflower Center
If you prefer more of a calm, serene feel of the holiday season, check out the Luminations show that allows for a casual stroll through its scenic paths in the Wildflower Center. The entirety of the outdoor botanical oasis will be decked out with lights and music. This is the first time that it has been available to the public and remains open through safe socially distance measures in place. This features a 1-mile path through the Texas Arboretum with lights that illuminate the entire path. You can also order from their Wildflower Café for treats to take with you along the path.
Availability: November 27, 2020 – January 3, 2021 from 6:00pm-9:00pm. (Members only on Mondays, closed on Christmas Eve, Christmas, New Year's Eve, and New Year's Day)
Pricing:
Ages 0-4: Free
Ages 5-17: $10 ($5 for members)
Ages 18+" $18 ($13 for members)
For More Information: https://www.wildflower.org/event/luminations/2020-11-27
Domain Shopping Center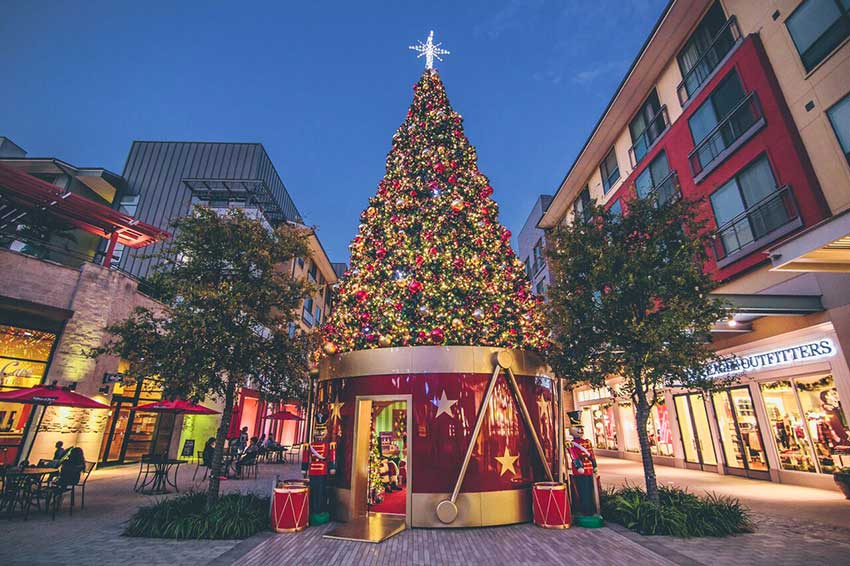 This isn't an official light show or anything but every year, Domain does an amazing job in decorating their outdoor area to fit the Holiday season. Whether it is the thousands of lights that are wrapped around the trees and bushes along every walkway or the iconic Christmas tree outside of Macy's, taking a stroll or shopping through Domain will not leave you short of any holiday spirit. With the biggest perk, it's completely free! You can enjoy the holiday energy at your own pace and have delicious restaurants and sweet holiday discounts in any direction that you decide to take.