Austin City Limits Music Festival Top Tips
The legendary Austin City Limits Music Festival is back with an incredible lineup featuring headliners like Kendrick Lamar, Foo Fighters, Mumford & Sons, ODESZA, and so many more amazing acts. There's so much to see, hear and taste at ACL Fest! We've put together new features, important logistics and pro-tips for ACL Fest goers.
Bonus Tracks Stage
Bonus Tracks is back with the biggest party on the smallest stage at Zilker Park with an incredible lineup for both festival weekends. Known for its alternative programming, Bonus Tracks serves as a hub for culture and connection and a space for positive vibes in between your favorite music performances.
On Weekend One, Brené Brown, researcher and #1 New York Times best-selling author, returns for a conversation with 19-time GRAMMY-award winning musician, 2-time Emmy-winning director, bestselling author, and 2-time Rock & Roll Hall of Fame inductee Dave Grohl of Foo Fighters to discuss music that moves us and why music is the most powerful driver of shared connection.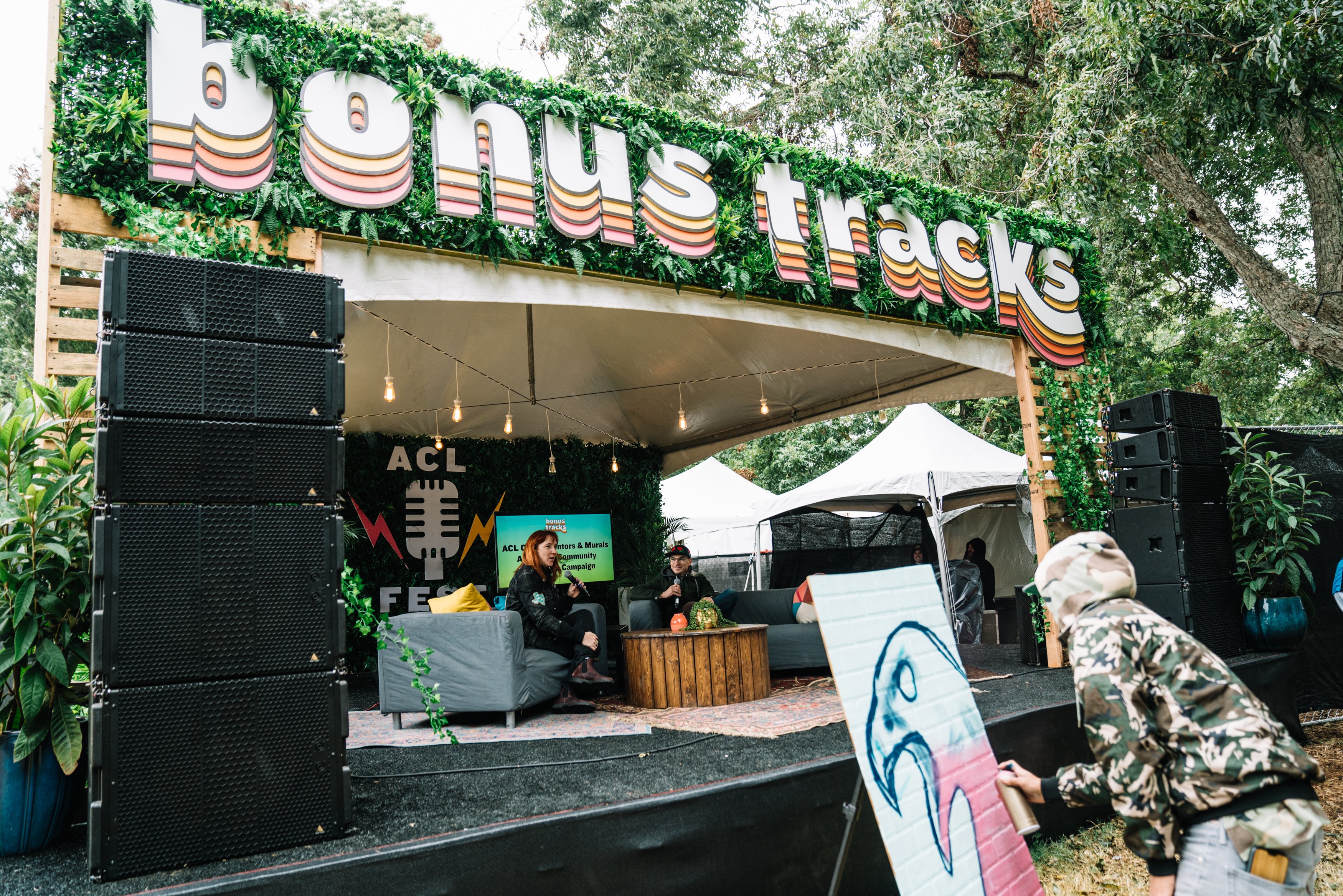 Weekend Two we'll talk Italian Subs vs Heros vs Hoagies and more! Courtney Storer of Coco's to Go-Go and actor Ricky Staffieri make a sandwich and help answer, what the hell is GABAGOOL?
More interactive performances over the weekends will make you move your body and soak up the positivity with a giant dance party from Bob's Dance Shop, get fresh with Outdoor Voices, go into the Multiverse with SuperMush and The Revivalists, indulge your inner artist with DrunkDrawn, feel iconic with Extragrams! a celebrity drag show and expand your horizon with live interviews from KUTX and NPR podcasts all weekend long!
Beyond The Music
American Express Experience
All fans can enjoy the Y2K Amex Experience that will transport them back in time with digital cameras, an old-school photo lab, and a retro photo studio. Plus, all Amex Card Members can experience more at the Card Member Club upstairs with elevated stage views, a bar, and complimentary refresh station. Space is limited. Terms apply.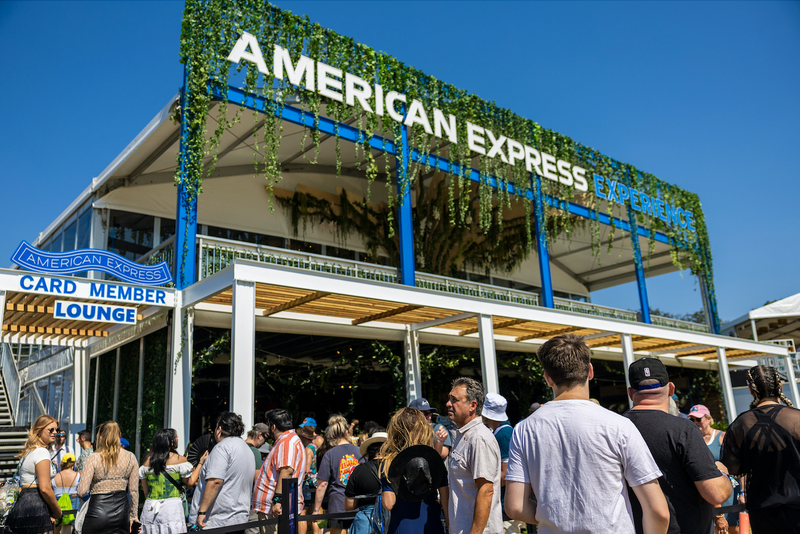 Honda Retreat
To get these two epic weekends started, Honda is giving away a 2024 Honda HR-V Sport to ONE lucky winner! Enter now for a chance to win before you get your boot-scootin' boogie on!
It's Better with T-Mobile
When you're with T-Mobile, you're with the band – so stop by T-Mobile Club Magenta all ACL Fest long to get the VIP treatment and enjoy lounge seating, a private bar, dedicated bathrooms, and exclusive giveaways. Plus side stage access and custom chain-stitching for customers.
Lite Bar 75
Experience Miller Lite's Bar 75 activation – an invitation for all fans to unwind and replenish with a great tasting Miller Lite all weekend long! Enjoy engaging photo moments, pop-a-shot, corn hole, cooling stations and free wifi & charging. Fans can participate in onsite giveaways for a shot to win VIP wristbands while enjoying DJ beats between sets!
ACL FEST 2023 WITH TITO'S
For the first-time ever, ACL Festival goers (21+) can grab a fresh Tito's Sparkling Lemonade at every GA Cocktail Bar. Catch a set with your favorite hometown spirit. Remember to stop by the Tito's Stardust Experience to try your hand at the claw machine for a chance to win big.
HULU HOUSE
Heading to ACL Music Festival? Come to the Hulu House to pick up some Hulu swag (while supplies last) and have the best seat in the house with streaming content live from select ACL Music Festival stages.
CRAFT BEER HALL
Grab a cold one at the Craft Beer Hall brought to you by Texas' own Karbach Brewing Co.! There will be a wide variety of beers to choose from, big screen TVs and a whole lot more.
THE PIXEL EXPERIENCE
Strut into The Pixel Experience like a headliner and get hands-on with the new Google Pixel 8. Experience unforgettable moments with unique, Ai-powered photo opps and awe-inspiring displays. Follow us on social or join our tribe #TeamPixel.
WRANGLER RANCH
Welcome to our wild, wild fest. Find your style for the show at the #wranglerranch- with limited edition merch and vintage denim.
COKE STUDIO
At Coke Studio, fans can transform themselves into a band, create unique album art and record a music video — all with the help of Coca-Cola Real Magic and AI. While they stay hot for their big performance, fans can cool down in the "green room" featuring an artist collage and ice-cold Coke Zero Sugar.
AUSTIN KIDDIE LIMITS PRESENTED BY LIFEWAY KEFIR
From dance workshops to sweet treats, there's a whole world for young ACL Fest fans to explore. Be sure to check out all of the fun activities and vendors coming to the festival this year. Friendly reminder: Kids 8 years old and under enter free with a festival attending adult!
TOPO CHICO HARD SELTZER BRANDED EXPERIENCE
Join us at the Topo Chico Hard Seltzer x Austin City Limits Music Festival branded experience. Here you can experience an authentic lone-star inspired photo op, a cool down from that TX heat, and of course, Topo Chico Hard Seltzer Strawberry Guava – Crafted with added minerals for a clean, crisp taste.
SNAPCHAT AR COMPASS
Get the crew ready for ACL Fest! Snapchat is making it easy to pick the artists you want to see, find all the stages, and so much more. Access the AR Compass now only on Snapchat.
ACL EATS, ACL SWEETS, AND MUCH MORE
ACL EATS
This year's ACL Eats features more food than ever before as well as two locations – the Main ACL Eats location between the Beer Hall and Tito's Stage, as well as the ACL Eats location between the main merch tent and IHG® Hotels & Resorts Stage (Barton Springs).
ACL SWEETS
New this year for all those dessert fans out there: ACL Sweets! Located near the T-Mobile Stage and Austin Kiddie Limits, fans can enjoy a collection of all sweet vendors in booths, trucks and carts – even a cotton candy vending machine!
BARTON BEACH CLUB TIKI BAR
ACL Fest 2023 will feature a brand-new tropical paradise serving up cocktails and poke items from Poke-Poke near the IHG® Hotels & Resorts Stage (Barton Springs). Stop by the club and take home an ACL Fest tiki mug as a keepsake!
BAR NONE
This new non-alcoholic bar offers mocktails and other non-alcoholic beverages and will be located within the ACL Market. ACL Fest is proud to partner with Robert Björn Taylor for this new menu curation.
EL PATIOVILLE
El Patio will be back on the east side of Rock Island serving nachos, chips and dips out of their stylish food truck, and will be parked right next door to a margarita bar featuring El Patio's signature margarita mix and Aquasol Tequila.
ACL MARKET
This year's ACL Market will be twice as big as ACL Fest 2022, featuring 26 vendors housed in tented dome structures (yay shade!) and powered by renewable energy.
BODEGAS
The ACL Bodega is a one-stop shop where you can buy quick snacks, like fresh fruit, and festival survival necessities, like sunscreen and ponchos.