Fiesta San Antonio: A Colorful Celebration of Texas Culture and Heritage
Fiesta San Antonio is an annual extravaganza that encompasses the vibrant spirit and rich cultural history of the Lone Star State. This 10-day festival (April 20th – 30th this year), held in the heart of San Antonio, unites Texans and visitors alike with its kaleidoscope of events, music, parades, and of course, mouthwatering Texan cuisine. From the energetic opening ceremonies to the dazzling fireworks of the grand finale, Fiesta San Antonio promises a sensory experience like no other, steeped in tradition and bursting with excitement.
History
The history of Fiesta San Antonio dates back to 1891 when a group of local citizens organized a parade to honor the heroes of the Alamo and the Battle of San Jacinto. What began as a simple yet heartfelt tribute has since evolved into a multifaceted celebration, now attracting over 2.5 million attendees and generating millions of dollars for local nonprofit organizations. The Fiesta has become a San Antonio staple, showcasing the city's unique blend of Mexican, Tejano, and Texan cultures in a captivating whirlwind of fun, food, and entertainment.
Food
One of the highlights of Fiesta San Antonio is the vast array of food options available. As you meander through the bustling streets, the aroma of sizzling fajitas, savory gorditas, and zesty elotes will tickle your taste buds. Foodies will be delighted to indulge in authentic Tex-Mex cuisine and local specialties, such as puffy tacos, barbacoa, and churros. Be sure to wash it all down with a refreshing agua fresca or a Texas-brewed craft beer. If you want a true taste of the Texas culinary scene, NIOSA (A Night in Old San Antonio) is an event you won't want to miss, featuring over 200 food booths serving up some of the most delectable dishes in the region.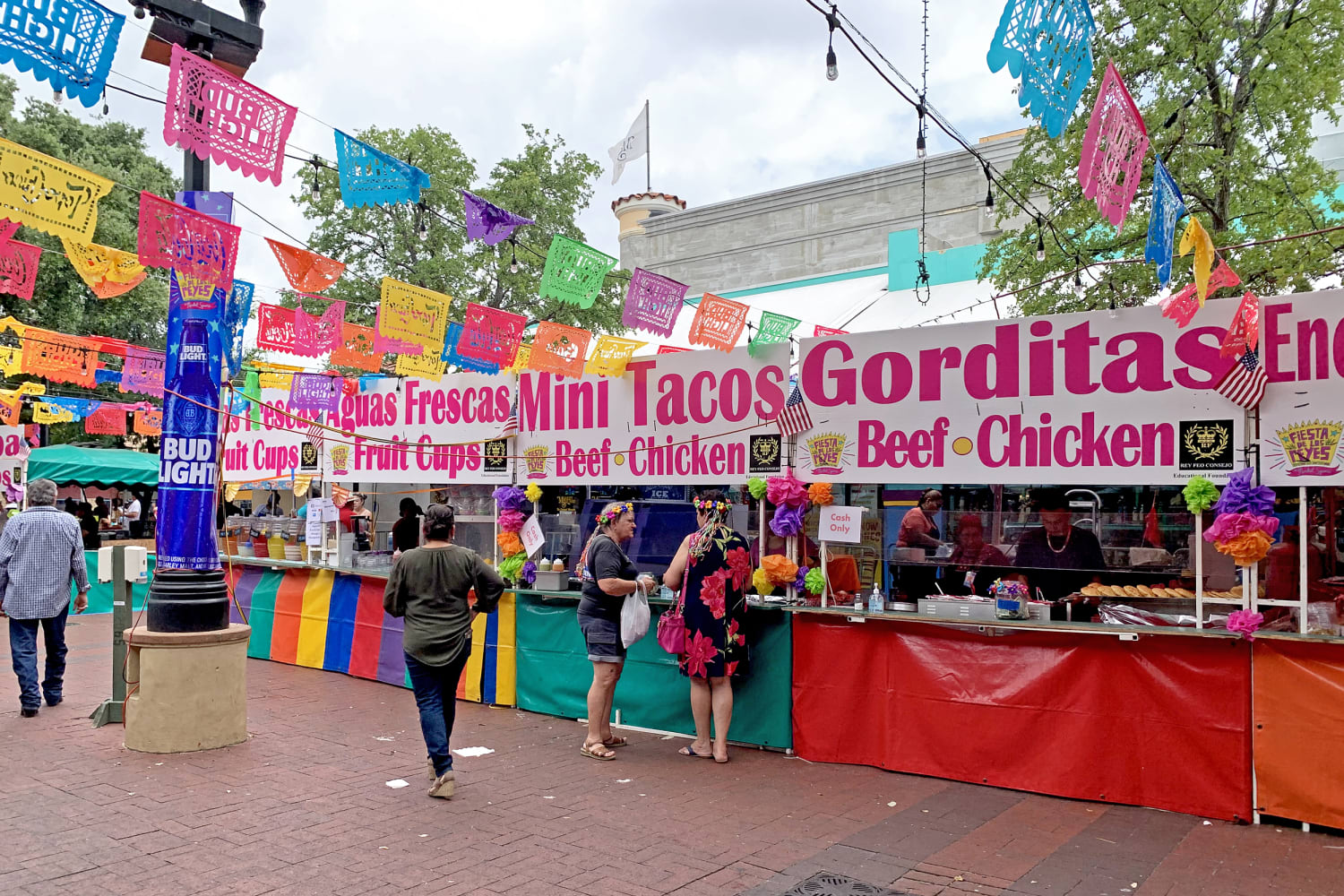 Events
Fiesta San Antonio's event lineup offers something for everyone, with over 100 events taking place throughout the city. The Texas Cavaliers River Parade, a unique spectacle where lavishly decorated floats drift along the San Antonio River, draws thousands of spectators each year. The Battle of Flowers Parade, the event that started it all, remains a popular favorite, showcasing ornate floats, marching bands, and a lively atmosphere. Don't miss the Fiesta Flambeau Parade, a breathtaking nighttime parade illuminated by torches and twinkling lights, providing a magical experience for all ages. Brands also have fun activations every year. This year Red Bull is bringing the world's biggest Spanish freestyle rap Competition to Fiesta.
Medals
Fiesta Medals have become an integral part of the Fiesta San Antonio experience, with a fascinating history and cultural significance all their own. The tradition of Fiesta Medals can be traced back to 1946 when King Antonio first distributed commemorative coins to the local children during the Texas Cavaliers River Parade. Over the years, these coins transformed into the colorful, ribbon-adorned medals we know today. Collecting and trading Fiesta Medals has turned into a beloved pastime for festival-goers, with each medal serving as a unique memento of the celebration.
The significance of Fiesta Medals extends beyond their collectible appeal, as they often represent various nonprofit organizations, local businesses, and even individual families. Many organizations create custom medals each year, with the proceeds from sales supporting their respective causes. This not only raises funds for valuable community initiatives, but also fosters a sense of unity and camaraderie amongst San Antonio residents. Medal collectors revel in the thrill of the hunt, seeking out limited edition or rare designs to add to their growing collections. As you explore the bustling streets of Fiesta San Antonio, don't be surprised to see proud medal collectors donning vibrant sashes or vests adorned with their hard-earned treasures, each medal a symbol of the city's rich history and spirit of community.
See Y'all There
In addition to the parades, Fiesta San Antonio features a multitude of attractions and activities, including live music, art exhibits, and even a Fiesta-themed carnival. History buffs can explore the cultural heritage of Texas through reenactments, exhibits, and lectures, while families can enjoy kid-friendly attractions and educational activities at the Fiesta de los Niños. As you immerse yourself in the vibrant celebration of Fiesta San Antonio, it's impossible not to be swept away by the camaraderie, passion, and heart that radiates from this iconic Texas event.